THE MUSICIANS
Who are the Cottas?
In Cottas, all elements are openly and proudly amateur musicians. Virtually all linked to multiple tasks including associative direction, merging the concept "Jazz" and the "time factor" precious difficult to manage, the Dixieland becomes like the source of pleasure and fun. In other words, Cottas are above all, a group of young, talented, dynamic, devout, well-prepared... making the Dixieland a way of being, touch and animate.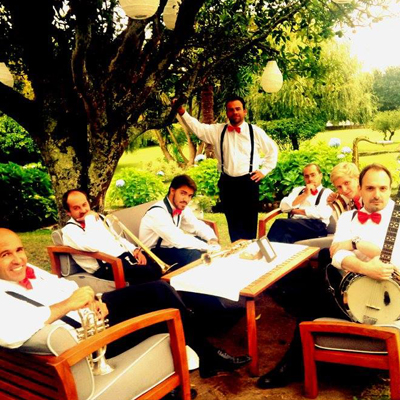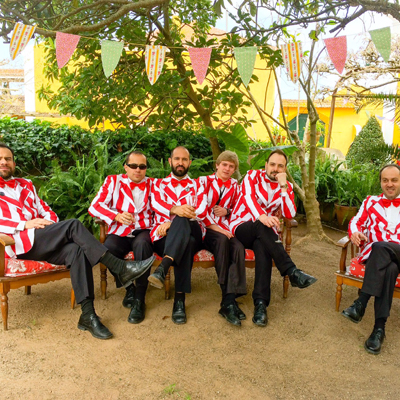 Mario Rui Nunes (Cornet/Vocalist), was born the year Louis Armstrong "pass away" and "blows on the thing" since started to have fluff on the left armpit. The musical career of "amateur" allowed him to reconcile "school orchestration" of electrotechnical engineering at IST. At the professional world but while "playin' the piston", experienced "musical arrangements" at Netherlands, USA and Brazil. It was with Dixie, the loose and syncopated shed, he found the kind of musical expression as his reference. Currently, the perfect balancer component (circus), for a number of horns in the trunk, in red shoes on trapeze without network, accompanied by a Gregorian chant letterhead African nightingale.
Miguel Campos (Tenor Saxophone/Backing Vocals), coming from Xlovakia, fertile country in blondie musicians, began playing at "place of müžc", since he was, roughly, 15 hands high (each span is 10 cm). Suffers from the 40's pre-crisis, which is to be too busy to study for math, philosophy and biology tests... He toggles his difficult student life with many selfies on Instagram. Aspiring to be the scientist chief-of-Barreiras (place near Bombarral), reconciling such passion with teaching classic saxophone. He liked to play rugby often, but it is not allowed to play with bagpipes while playing or in the locker room...
Jorge Maia (Sousaphone), between several musical experiences embraced to mandolins, guitars and ukuleles and after running over Europe with the university's cover (typical Portuguese academic costume), found in Dixieland the elixir of youth, the ballads and songs were invaded by Vintage and since then the Sousaphone became his confidant and companion journey. Goes with him everywhere and always travels in "out of shape". The bass and low frequencies do not go alongside and when someone is distracted always leads with an affectionate smell (bell jar over his head below).
Hugo Margalho (Trombone/Backing Vocals) born and raised in the West of Portugal during the tumultuous 70s, began to develop his musical skills while as teenager at Bombarral. After experiment a range of musical instruments types, somewhere in the 90's came to his senses and decided to learn to play the trombone, an instrument that never let go. Currently, and after a foray into by Coimbra, combines his profession of accounting officer with the art of stretching the straight edge.
João Faustino (Saxophone Soprano/Backing Vocals) is kind and wise, although a big, fat, lumbering and sleeper, is an elegant master while executing his Saxophone. In other adventures he has taught Mowgli the laws of the jungle and countless songs. He lives carefree with life and conveys his companions their knowledge wise, such as: 'Bare Necessities'. Despite his such irresponsibility, turns out to follow his formation colleagues in this great adventure of Dixieland.
Alexandre Maia (Washboard), born in 1985, had his first musical experience at age of 12, via Alto Saxophone at the Bombarral Philharmonic Band.Since then always connected to music, in 2006 takes the place as the "mobile percussionist" of the group, a fact that came to highlight him as one of the firsts regional "washboard player"! His taste for Vintage is also complemented with his love and dedication to "Vintage movement" of Volkswagen's from the 50s and 60s.As a professional driving from one of the country's biggest transport companies, also has the function to drive the rhythm of the band in its various styles.
Tiago Fernandes (Banjo/Backing Vocals), his banjo requires the harmonic responsibility of aggregate the melodic improvisations of his colleagues. Embraces two passions: chemistry and music. As a researcher his object of study are metal-organic frameworks (MOFs), coordination complexes and their activity both in catalysis and in biomedical applications. In music was in 2011 that he found in the roots of Dixieland a way to felt concretize and to keep him focused on his uninterrupted search for magical chord. In stage shows, plays his number of illusionism, carrying an authentic laboratory of strings, toasting the spectators with a banjo, a guitar, a banjolin and his cigar box guitar.